We're a custom optics engineering and manufacturing company, and our involvement with a customer's project usually starts on the engineering side and leads to our production of precise lenses for their quantity needs of tens to several hundreds per year. Our capabilities include optical design, optomechanical engineering, aspheric replication, lens prototype construction, and lens serial production. We specialize in working with small to mid-sized technology companies.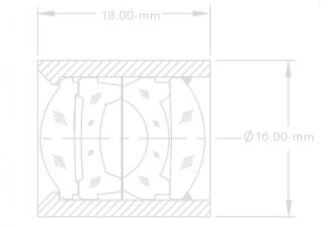 We are passionate about solving great optics and engineering challenges while delivering industry-leading optics, enabling our customers' products- and thus their businesses- to grow.

We support many small technology companies. They are a driving force of our economy. Their imaging products rely on optics with exacting performance that are delivered on-time and on-budget.

Most of our customers come to us via word of mouth where trust and reliability are critical.
Several of these customers have tried working with large optics companies only to find that their projects and needs get ignored and lowered in priority compared to their bigger customers. This creates delays – which stifles their business growth. While some of our clients may be resource constrained at their current stage, we recognize that they still need significant optical efforts, and we give them our best effort all the time. Partner with Gemini Optics and we'll do our part to enable your growth!

Gemini Optics delivers custom optics with a just-in-time method with perfectly matched metrology for world-renowned standards.
Founded in 2000, Gemini Optics provides optical solutions to emerging and growth businesses through novel optical designs and production lenses.
Contact
Gemini Optics, Inc.
Based in Rochester, NY
(585) 464-0770